Paul Benoit has been playing music in the Seattle area and touring for over twenty years. He's performed and recorded with numerous songwriters including Chris Chandler, Dan Bern, Reggie Garrett and Laura Love. After studying music and literature at the University of Washington, Paul joined the band Crosseyed, an electric/acoustic roots rock group which released two albums and toured throughout the western U.S. with its popular, high energy shows.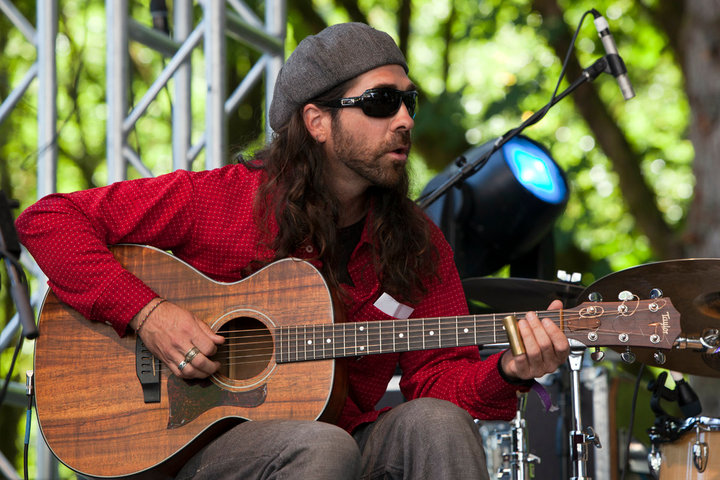 In 1997, Paul co-founded a band called Hanuman, a four-piece, all-acoustic instrumental ensemble. The eclectic nature of this new band, blending jazz, bluegrass, country and rock'n'roll with African beats, prompted Paul to experiment with new musical styles and instruments. He traveled throughout Asia, Europe, Latin America, and India studying instruments such as the sitar and the Indian slide guitar. Hanuman released four albums, sold over 8,000 recordings and toured the U.S., playing at clubs, festivals, and theaters, up to 200 dates a year. In 2001, the band received Best Touring Band and Best Album awards from Sounds of Seattle and was voted Best New Band by the Seattle Weekly. In 2004, various members reformed as The Hanuman Collective and recorded another C
In 2002, Paul recorded an eleven-song solo CD whose title, Dopamine, was inspired by the neurotransmitter of the same name. The album is a moody exploration of emotion, from love to loneliness, and draws on the style of Americana traditions such as folk, blues, country and pop. Paul's songwriting and sound continued to evolve with the lush and complex arrangements of his second CD, Combustible, released in 2005 and named a Top-12 DIY CD in Performing Songwriter magazine. The album features veterans of the first CD (Bill Malloy on bass, Dan Weber on drums), and other talented Northwest musicians, including Dan Tyack on pedal steel, Darren Loucas on lap steel and Lewi Longmire on Hammond organ. Paul composed the soundtrack to the film "Diggers," which won the IFP/Seattle Spotlight award and premiered at the 2007 Seattle International Film Festival. In 2007, Paul released his 3rd solo CD, Lazy Eye, a collection of 10 new songs recorded primarily with acoustic guitar and band. In 2008, Paul released a six-song EP entitled All the Miles. In January 2009, Paul released his 5th solo CD, Bluebird, recorded at a small beach village in El Salvador. In 2010, Paul released Zibbi Dibbi Doo Zibbi Wah Zibbi Doo Wah Doo, an catchy collection of high-energy songs that will have you singing, if not dancing, along! In 2012, Paul released Ragpickers, pure contemporary Americana and flawless guitar licks, followed by Have You Seen Me in 2013. Paul Benoit's 2015 release "My Old Clothes" stands out in the crowded arena of singer-songwriters; his soulful guitar playing makes the album shine. Paul recently released his 10th studio album, King of Delusion, blending rock, blues, pop, and americana themes with lush horn melodies, explosive guitar work, and skillful songcraft — all inspired by decades in music, performing and traveling around the globe.
Paul continues to perform solo and with his band and with performer/poet Chris Chandler, throughout the United States, Canada, Mexico and Central America. For booking and contact info, click here.
Interview and performance by Paul Benoit 'Black Bag Blues' – Plum TV, Sun Valley, Idaho