Lost Days Long Nights – Album by Paul Benoit
Americana, Folk & Rock, Zebadiah Records, 2019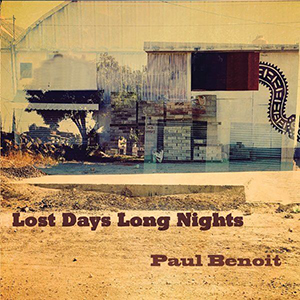 Arrow
Losing It
Voices
Lost Days Long Nights
Sad Funny
Find Me In the Dark
I Want to Believe
Bad Things
Daydreaming
Heaven
Click album cover to listen to tracks on your favorite online platform. Listen to the album on Bandcamp!
Lost Days Long Nights is Paul Benoit's 11th studio album. Written on journeys to South America, Turkey and the U.S.A, it is full of acoustic travel ballads, moody rock songs, powerful guitar, piano and organ, and haunting pedal steel. Lost Days Long Nights was written on the rooftop in a small village in Peru surrounded by giant sand dunes contemplating the road, lost love and missed opportunities. Voices contemplates Joan of Arc and the ironic twists of daily life and self doubt. Arrow explores the limitations of the human heart after an autumn spent in Istanbul, Turkey. Find Me in The Dark was inspired by a visit to the historic silver mines of Bolivia and mixes images of the dark tunnels and exploration of romance.
Genre: Americana, Rock, and Folk.