Ragpickers Album by Paul Benoit
Zebadiah Records, released 2012
Pure contemporary Americana and flawless guitar licks.
TRACKS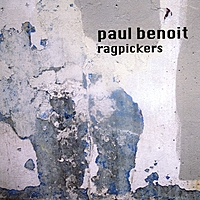 Don't Hate Me
What's On Your Mind
Black Bag Blues
But Not You
Kickin In
Rich Girl
Can't Stop Me
Crosswalk Companion
"Though this is not the sort of album to which I am automatically drawn, Ragpickers is so accomplished and listenable that resistance is pointless. A Seattle-based singer-songwriter, Paul Benoit is — broadly speaking — out of the James Taylor school. That's not to say he sounds particularly like Taylor, only that Taylor pretty much invented a particular kind of post-folk, acoustic-guitar pop music that, besides vague folkishness, incorporates elements of blues, r&b and rock. At least one cut, 'Kickin' In,' owes more to Paul McCartney than to Taylor. I'm neither for nor against McCartney — actually, he and his music rarely enter my thoughts — but I imagine this is a pretty good example of the faux-McCartney style. Well, let's drop the snark: it's a good pop song, period. Ragpickers is expertly produced — by Benoit himself — calling on the services of a small band of fine rock-pop players who carry Benoit's polished vocal and intelligent lyrics. Owing to my own particular aesthetic bent, I am drawn to the relatively more down-home songs such as the not quite earnest spiritual anthem 'Can't Stop Me' and the blues-tinged title piece, which works metaphors on multiple levels of meaning. Nice melodies, too. Benoit definitely has a talent for those. Though James Taylor has always been able to deliver the goods himself, he has left us with a dubious legacy of mediocre singer-songwriters and injected into the culture the unfortunate notion that just about anybody can write a song. Benoit, on the other hand, is a credit to his tribe. Ragpickers shows there's life in the genre yet."
Rambles.net — Jerome Clark
"Paul is able to play glorious guitar licks and transmit a pure front porch feeling…knows how to surprise with his music again and again."
Hooked on Music —Michael Masuch
"Paul Benoit remains a songwriter worth tracking down. Ragpickers continues his journey into pure contemporary Americana…"
Leicester Bangs —Rob F.